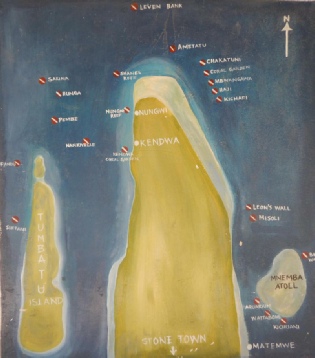 SPECIAL DESTINATIONS (surcharges apply)
Mnemba - Watabomi (10-25m) **; Beautiful hard corals are nestled in between of sand banks where lots of hunters are watching for their prey.
Mnemba - Kitchuani (5-35m) *; another interesting dive spot at the southern tip of Mnemba. We will be able to dive in different depth, being able to see different kind of fish including big game fish.
Mnemba - Big Wall (15 - 40m) ***+; A wall with about 1km length is giving this exciting but challanging dive spot its name. Caverns are shelter for many smaller reef-inhabitants but the larger game fish including reef sharks with a bit of luck.
Tumbatu - Shetani (8 - 18 m) *, interesting dive site with some spooky-looking corals with long white 'arms', turtles and lots of juvinile fish
Tumbatu - Pandu (8-12m) *; this spot is located at the northern tip of the island of Tumbatu and offers perfect diving conditions with colourful corals and a wide variety of fish
Leven Bank (15-40m) ***+; about half way to the island of Pemba right in the middle of Pemba-channel a pinnacle rises out of almost 200m up to about 15m below the surface. This spot is known for its big game fish like tuna, kingfish and barracuda.
Leons Wall (18-40m) ***; a wall that drops down to 40m is the setting for this exciting dive spot. There you will find lots of small caves that give shelter to groupers and morey eels but this spot also is known for dolphins, turtles and different type of rays.
Misoli (12-18m) **; at this dive site we will circle around a huge block covered with coral. It gives habitat to moray eels, scorpion fish and some large turtles.
LOCAL REEFS
Shanes Reef (12-18m) **; this spot is loved by u/w-photographers for its vast variety of beautiful macro life. You will find here sea horses, frogfish, scorpion fish, crocodile fish and many more.
Mbwangawa (10-16m) **; many soft and hard corals are the habitat for moray eels, turtles, manta shrimps, egg shells and quite frequently also turtles.
Coral Garden & Ametatu (5-15m)*; a vast number of reef fish inhabits this colourful coral reef.
Haji & Kichafi (12-18m) **; two "sister-reefs" parallel to the coastline covered with plenty of hard and soft coral and give habitat to large number of reef fish. With its wide sand-bottom this is also a perfect place for any type of courses.
Chakatuni (12 - 18 m) **; a coral plateau right at the northern most tip of Zanzibar; here you will often meet turtles, sting rays and lots of reef fish.
Hunga (12 - 18 m) **; this site is known for its beautiful coral formation with big schools of snappers, lobster hiding in caves and big groupers hunting their prey.
Nankivelle & Pembe (10-15m) **; west of Hunga Reef, huge coral blocks emerges out of the sand. This location is inhabited by lobsters, barracuda, blue spotted sting rays and big schools of fish
Nungwi House Reef (6-12m)*; right in front of our base you will find this easy and shallow dive site with a couple of nice coral blocks. Not so spectacular by day but full of marine life at night time, like moray eels, cuttle fish, octopus, spanish dancer, guitar sharks etc.
For your easier reference we have rated the dive sites according to the following codes:
* Beginners
** Slightly advanced
*** Advanced
***+ Experienced